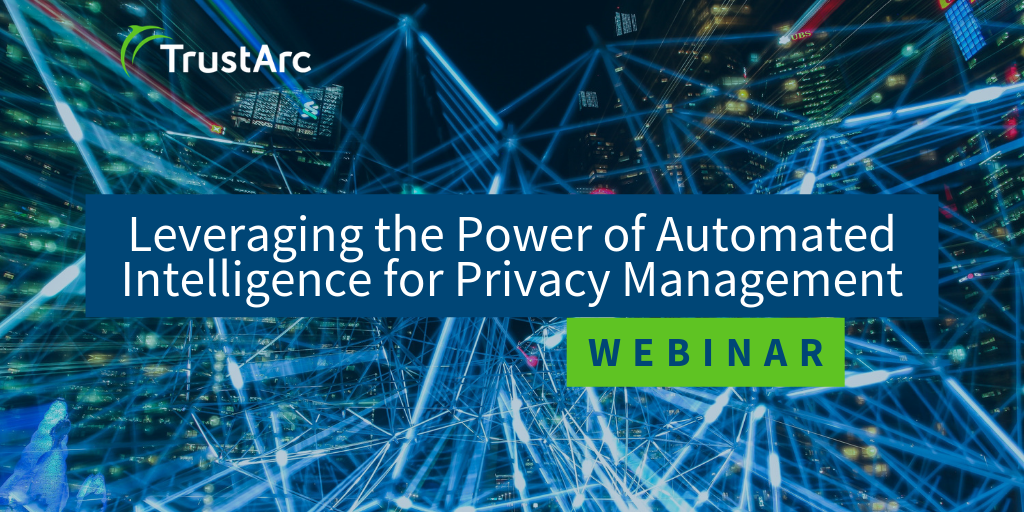 TrustArc is proud to present the next Privacy Insight Series webinar "Leveraging the Power of Automated Intelligence for Privacy Management" with CryptoNumerics VP of Sales Ravi Pather and TrustArc SVP Privacy Intelligence and General Counsel Hilary Wandall. This webinar will take place on Thursday, September 26th at 9am PT / 12pm ET / 4pm GMT. Don't miss this opportunity to learn more about using automation to simplify privacy program management – register today!
With the increasing prevalence of privacy technology, how can the privacy industry leverage the benefits of artificial intelligence and machine learning to drive efficiencies in privacy program management? Many papers have been written on managing the potential privacy issues of automated decision-making, but far fewer on how the profession can utilize the benefits of technology to automate and simplify privacy program management.
Privacy tools are starting to leverage technology to incorporate powerful algorithms to automate repetitive, time-consuming tasks. Automation can generate significant cost and time savings, increase quality, and free up the privacy office's limited resources to focus on more substantive and strategic work. This session will bring together expert panelists who can share examples of leveraging intelligence within a wide variety of privacy management functions.
Key takeaways from this webinar:
Understand the difference between artificial intelligence, machine learning, intelligent systems and algorithms

Hear examples of the benefits of using intelligence to manage privacy compliance

Understand how to incorporate intelligence into your internal program and/or client programs to improve efficiencies
Can't make it? Register anyway – we'll automatically send you an email with both the slides and recording after the webinar.
TrustArc publishes a broad range of privacy educational resources, including research reports, benchmark statistics, solutions briefs, product updates, webinars, workshops and much more. Check out the following resources on hot topics including CCPA, GDPR, Vendor Risk Management, DSAR Best Practices, Cookie Consent, and much more. Register for the free TrustArc Privacy Insight Series subscription and find out why over 20,000 privacy professionals per year take advantage of TrustArc privacy education resources.