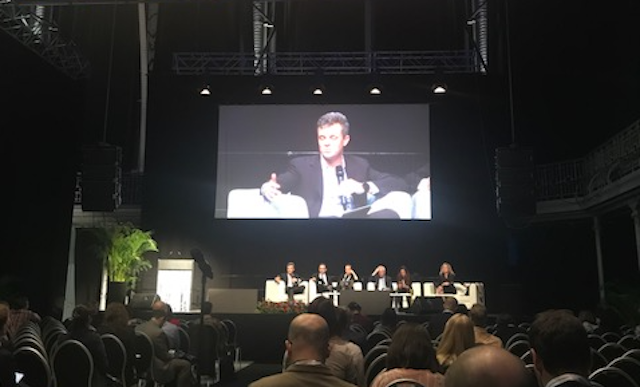 TrustArc CEO, Chris Babel and Chief Data Governance Officer, General Counsel & Corporate Secretary, Hilary Wandall presented at the 2018 Computers, Privacy & Data Protection conference
Chris and Hilary were joined by Moderator Dennis Hirsch, Ohio State University Moritz College of Law (US) and speakers Gemma Clavell, Eticas (ES), Gry Hasselbalch, DataEthics (DK), and Evert-Ben van Veen, Medlawconsult (NL) for a presentation, "The Role of Ethical Analysis in Privacy and Data Protection Assessments" that focused upon the role of ethical considerations in conducting privacy and data protection assessments.
The panel used cross-disciplinary and historical lenses to explore the way in which ethical principles, such as those set forth by Beauchamp and Childress, have been evaluated in other forms of ethical review and ethical impact assessment, and how they relate to and may be applied to privacy and data protection assessments. Then, the panelists discussed how these ethical considerations factor into practical tools such as Data Protection Impact Assessments (DPIAs), Privacy Impact Assessments (PIAs), and Legitimate Interest Assessments (LIAs).
The lively discussion helped the audience see how lessons from other applications of ethical assessments and reviews can be used to design and implement DPIAs and PIAs.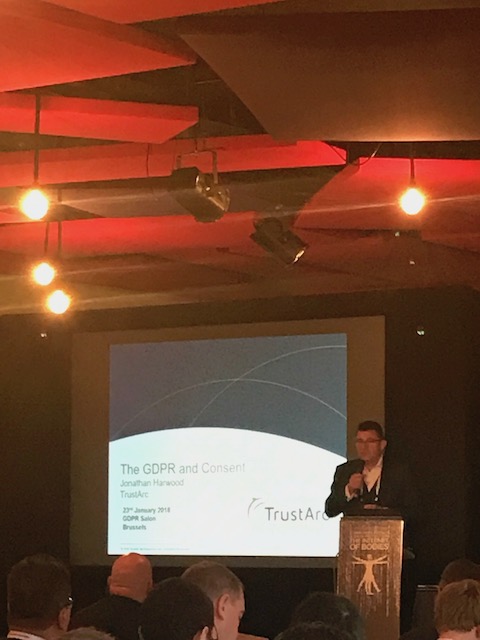 TrustArc Sales Director, Jonathan Harwood presents at the 2018 GDPR Salon
TrustArc also presented at the GDPR Salon, which was held under the patronage of the Belgian State Secretary for Privacy and the Belgian Privacy Commission. The day consisted of practical panels on the following topics:
Best Practices and Tools in Consent Management
Best Practices and Tools in Privacy Impact Assessment and DPIA
Best Practices and Tools in Data Protection Technologies
Best Practices and Tools in Data Leakage, Discovery & Reporting
Best Practices and Tools in Compliance Management, Audit & Control and Operations
Johnathan presented on TrustArc Consent Management implementation, and gave practical examples of how expert GDPR content can be combined with technology to meet GDPR requirements.
To find out more information about how TrustArc can help your company comply with the fast approaching GDPR deadline, contact us.